Continuum Dynamics, Inc. (CDI) has been selected by the US Air Force to be among a small number of innovative firms to develop concepts for High-Speed Vertical Takeoff and Landing (HSVTOL) aircraft. The USAF AFWERX innovation unit sponsoring this work selected CDI to be among the 11 companies that met its challenge to industry to identify potential HSVTOL concepts that could meet critical needs in to support USAF and US Special Operation Command missions.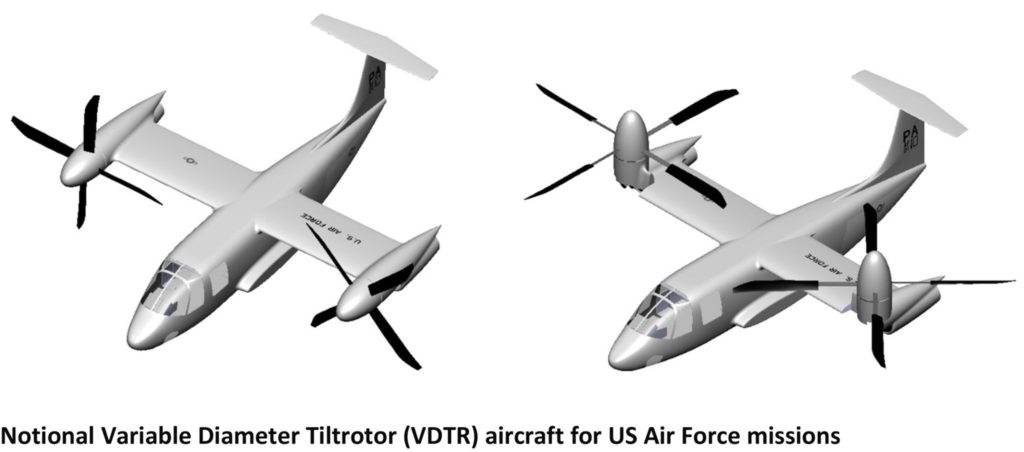 CDI reached this stage after starting from an original field of 218 proposals originally submitted in response to the HSVTOL Challenge posed by AFWERX in May 2021. The field was narrowed to 36 in August 2021 when AFWERX staged a showcase event in Las Vegas.  The latest down select, announced in late December, reduced the field to 11, who now move into a 5-month Phase 1 concept development effort ending on June 30, 2022.  Current plans are for a subset of these companies to move on into a Phase 2 risk reduction and design effort, and eventually to a down select for construction of full scale prototypes.
CDI's work will focus on the application of new design and actuation technology to a Variable Diameter Tiltrotor (VDTR), a concept that is scalable to a wide range of USAF and USSOCOM missions, and that can meet the key requirements of efficient hover lift and high speed posed by of the HSVTOL Challenge, while also offering reduced downwash and noise relative to competing designs.
CDI is teamed in Phase 1 with AVX Aircraft, renewing the long partnership between the two companies that extended over several stages of the US Army FVL/JMR, FARA, and FLRAA programs. AVX is well known leader in VTOL design and innovation who will play a key role in rotor system design for the VDTR concepts under study, as well as in planning for test and evaluation of demonstrators in later phases, where formation of a broader team to support prototype development is anticipated.